Haddonfield Memorial High School
In Memory
Bill Frantz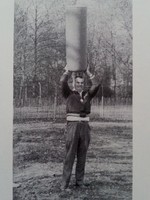 Coach Frantz grew up in Trenton, NJ, and was the starting tackle on offense and defense from the time he stepped on the field as a freshman at the University of Miami. He was the captain of the team in 1947 that won the Orange Bowl and was selected as one of Miami's first All Americans. He received his MA from Columbia University. Bill was the line coach for the football team and worked with lifelong friends Russ Spicer, Al Gant, and Leo Castle throughout his career where they spent many years producing winning teams. But more importantly, they taught values and helped build character in the many athletes they coached.
Coach Frantz was also the head wrestling coach at HMHS with a record of 135-41-1 and three state championships (Gene Kain, Chick Sherwood, and Ronnie Biglan). He won 13 straight conference championships and was helped by his great friend Joe Foulk. He was inducted into the South Jersey Wrestling Hall of Fame. He and his daughter, Joan, are the only father/daughter combination in the Haddonfield High School Athletic Hall of Fame.
Many of us remember Coach Frantz as the Recreation Director and Driver's Education teacher. We lost him at age 87, in 2009, at his home in Miramar, Florida.